In 1999, we built our dream home. We thought it would be our forever home. We loved it, but ten years later, we got an offer on that home we believed we could not refuse. Our property was over one and a half acres and we considered how we would manage the necessary upkeep as we looked to the future. That gave us the impetus to find a place that would have the room and location to make our "Golden Years" happy ones.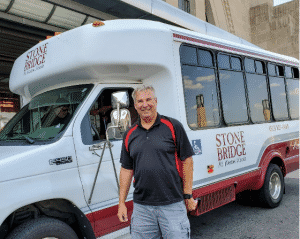 The amenities here at StoneBridge gave us the opportunities to have a beautiful home without the concern about the upkeep. We have new friends and also the opportunity to socialize with them at on-site events offered by StoneBridge as well as excursions with Chauffeur Bob.
And most important, there is a maintenance team who take care of any problems inside and out. Moving here was the right decision for us and we are more than happy to promote StoneBridge to anyone who is looking for a "Forever" home.