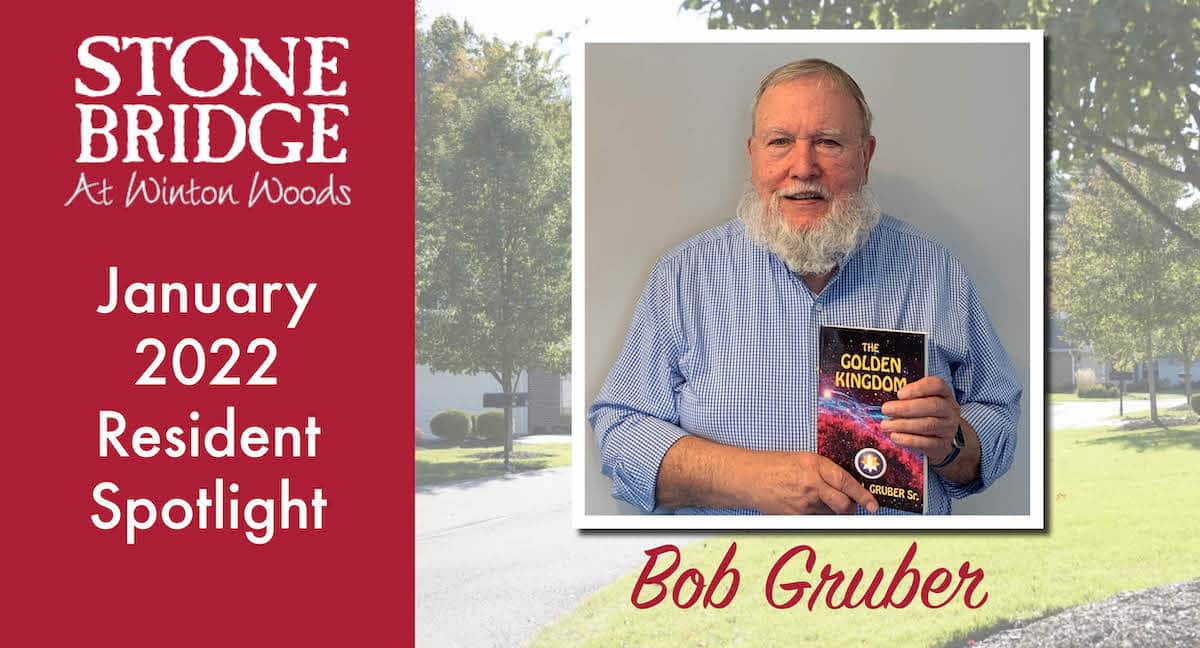 Resident Spotlight: Bob Gruber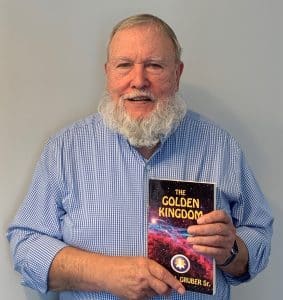 The StoneBridge at Winton Woods Resident of the Month for January 2022 is Bob Gruber. Bob is the author of The Golden Kingdom. 
Bob shared that he started writing this book more than 20 years ago. He said he had the story in his mind up to about Chapter 12 but couldn't figure out what or who The Golden Kingdom was to be. He went ahead and sent The original Golden Kingdom manuscript to the Library of Congress to ensure that he secured the title for his use only. 
Bob found himself telling his wife about twelve years later, "I think I have the rest of the story!" After that moment, he had many nights where he got out of bed with ideas he had to put in writing. He states that "The Golden Kingdom's entrance into the story is very unusual. You'll be pleasantly surprised as you read it. 
Some would call it coincidence, but Bob knows it was grace when Tom Sparough entered Bob's life and became his editor. "Such a wonderful human being and so gentle and insightful with me over the past couple of years." said Bob. Tom's gentle guidance helped add so much to the story such as the final battle, as well as making sure everything that is brought into the story works its way out later in the story. Tom asked Bob to write a prequel and a sequel. The jury is still out on that request. 
Bob didn't always want to be a writer but had this urge to write this book about 20 years ago. He stated that, "Somehow, there was a driving force." When asked how he came up with the name, he responded truthfully that he didn't know. Looking back now, he knew there was a Golden Kingdom, but didn't know who "they" were. He knew it would be something special. About the 12th or 13th year into his writing of the book, "they" came into the story, and the story really came alive in a most spectacular way. 
He shared that there can be a lot of discouragement in writing, but you have to pick up the pen again. He credits his wife, Kathy for not only being a catalyst to bringing Tom into the process, but also for all of the time she spent reading the manuscripts over and over, dedicating her time and guidance to it as well. 
Fun facts about the book
The cover is the Witches Broom Nebula taken by The Hubble Telescope (which is actually 1,470 light years from earth). This is where the story takes place.
He dedicated this book to his Godmother whom he has never met, who picked him up at birth and took him to Church and consecrated him to The Blessed Mother; as well as to Bishop Fulton Sheen, his mentor, whom he named his dog Fulton after.
There are similarities in the book to the writing styles of C. S. Lewis and J. R. R. Tolkien in their use of symbolic figures, dates, and self-realization of Maria's character.
Bob becomes tearful as he reads the book himself and shows such appreciation for all it means to him, how it came out, and how everything came together to allow it to happen beautifully with the help of Tom Sparough.
Bob gives talks at The Holy Spirit Center in Norwood on Our Holy Mother and he feels The Blessed Mother is in charge of this book.
When asked what takeaways he would like to have his readers enjoy, Bob replied, "That they will be entertained and enjoy the character development of Maria, specifically in understanding there is someone designed to help everybody since the beginning of time.
The first landscape picture in the book was taken by Bob Gruber at Stonebridge at Winton Woods on his way out the entrance driveway looking right.
At StoneBridge at Winton Woods, we celebrate our residents' milestones, achievements, and talents. Find out more about living at StoneBridge at Winton Woods, our housing options and amenities, contact us today and schedule a tour!