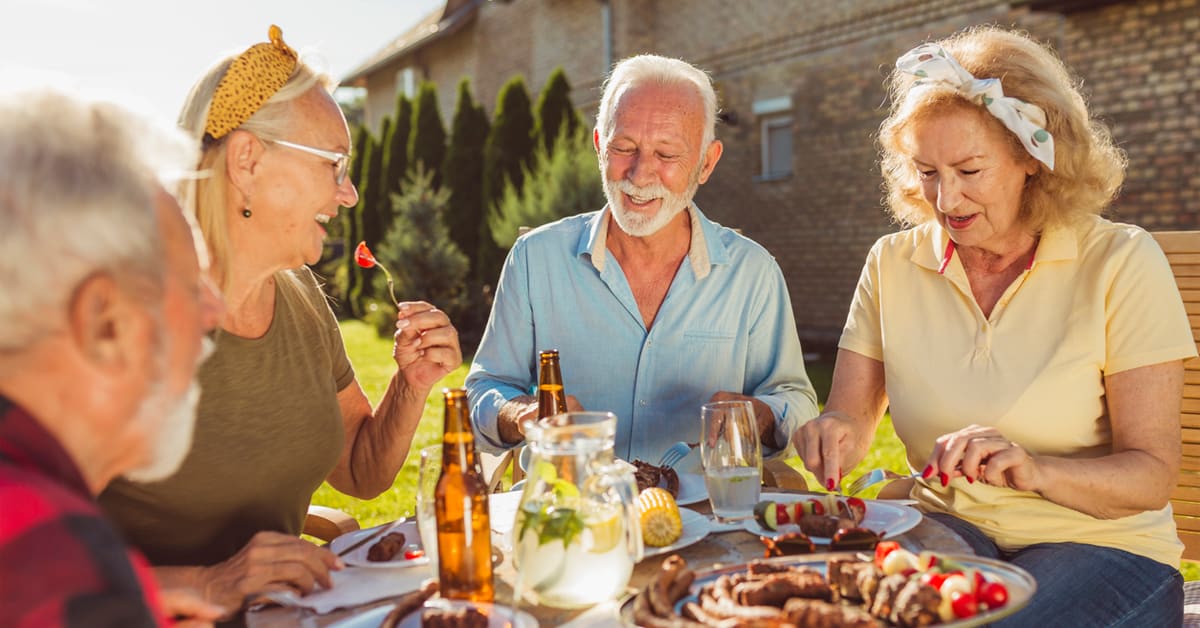 Summer Dinner Favorites for Active Seniors That Don't Heat Up the House
Summertime is short so don't waste it in a hot kitchen when cool, fresh, and very appetizing meals can be prepared on the grill or without cooking at all. By taking advantage of Cincinnati's local farmers markets and thinking healthy, great summer dinners are easy for active seniors in retirement communities to create and enjoy. Here are some ideas to excite your inner summer chef.
Crispy, crunchy and cool
When the weather is hot, cool foods like green dinner salads are very appealing, especially when they are out of the ordinary. Instead of just throwing the same old iceberg lettuce in a bowl, consider all the different types of greens available and give some new ones a try. Arguably, some greens have little to no flavor, but many do, such as peppery arugula or watercress. Another great way to try new lettuce varieties is by growing your own "microgreens," which are very young plants and very tasty. No matter which greens you choose, the greener the leaf the more vitamins, minerals, and nutrients you will get, and there's a great rundown on them in this healthline.com blog, "The 13 Healthiest Leafy Green Vegetables."
Once those lovely greens are chosen, consider additions that are also something new. For example, while traditional cucumbers, tomatoes, and peppers are great, consider adding fruits like strawberries, pineapple, or melon to sweeten things up while staying cool. For protein, think about non-meat sources such as cheese, hard-boiled eggs, tofu, nuts, and/or chickpeas. The beauty of a well-made summer salad is that you can get full without overeating and still get all the nutrition you need without extra fats and carbohydrates. They also make great dishes to pass when there's a community gathering and you won't have to worry about leftovers. For unique and refreshing dinner salad ideas, check out delish.com's blog, "49 Healthy Dinner Salads That Will Actually Make You Want To Eat Salad."
Bring on the barbeque
Cooking out on the grill is a great American tradition and one for which ideas are virtually endless. One very easy, delicious, and overlooked option is vegetables. Summer vegetables straight from the farmer's field like zucchini and butternut squash chunks, corn on the cob, and skewered cherry tomatoes are great candidates for beginner grillers. Just drizzle them with olive oil, add a little salt, pepper and, other favorite spices, and they make an excellent side with barbequed chicken, fish, or steak, or as a great main course as well. Get more great veggie barbeque ideas in the allrecipes.com blog, "BBQ & Grilled Vegetable Recipes."
Speaking of skewers, they help making grilling small foods easy without any waste. For example, small pieces of chicken or beef, chucks of fish (like cod or other firm white fish), and seafoods such as shrimp and scallops are all perfect for skewering on the barbeque. They can be marinated or just tossed on the grill for quick and easy meals without turning on the stove or oven.
For those who want to skip meat all together, consider our friends the fungi! Portobello mushrooms are often large enough to go it alone on the grill, but smaller varieties like button mushrooms can share skewer space with assorted vegetables or fruit. What makes mushrooms so great is they can easily replace meat in a meal and add a wealth of vitamins, minerals, and antioxidants, are low on sodium and calories, and have zero fat and cholesterol. For more fun and adventurous barbeque ideas, tasteofhome.com's blog, "97 Sizzlin' Summer BBQ Ideas," will not let you down.
Wrap it up
For a fun and yummy dinner, lettuce wraps have become a favorite at home and in restaurants. These are simply a leaf of lettuce — butter, iceberg, red leaf, and romaine work well — wrapped around the ingredients of choice. The options can include just about anything including freshly grilled or left-over chopped up meat, chicken, seafood, vegetables like chopped tomatoes, green onions, shredded carrots, cheese of all kinds, rice, beans, and a dressing of choice.
Lettuce wraps are great for a simple dinner with friends where everyone makes their own with the ingredients they prefer. The results are crisp and delicious without the added carbohydrates of other tortilla-like wraps. For really inspiring lettuce wrap recipes take a look at allrecipes.com.
Are you an active older adult? Check out StoneBridge at Winton Woods, an outstanding Cincinnati-area retirement community for those looking for the convenience of maintenance-free living and a carefree active lifestyle! Learn more about the active adult lifestyle at StoneBridge of Winton Woods here, and hear what our residents have to say here!