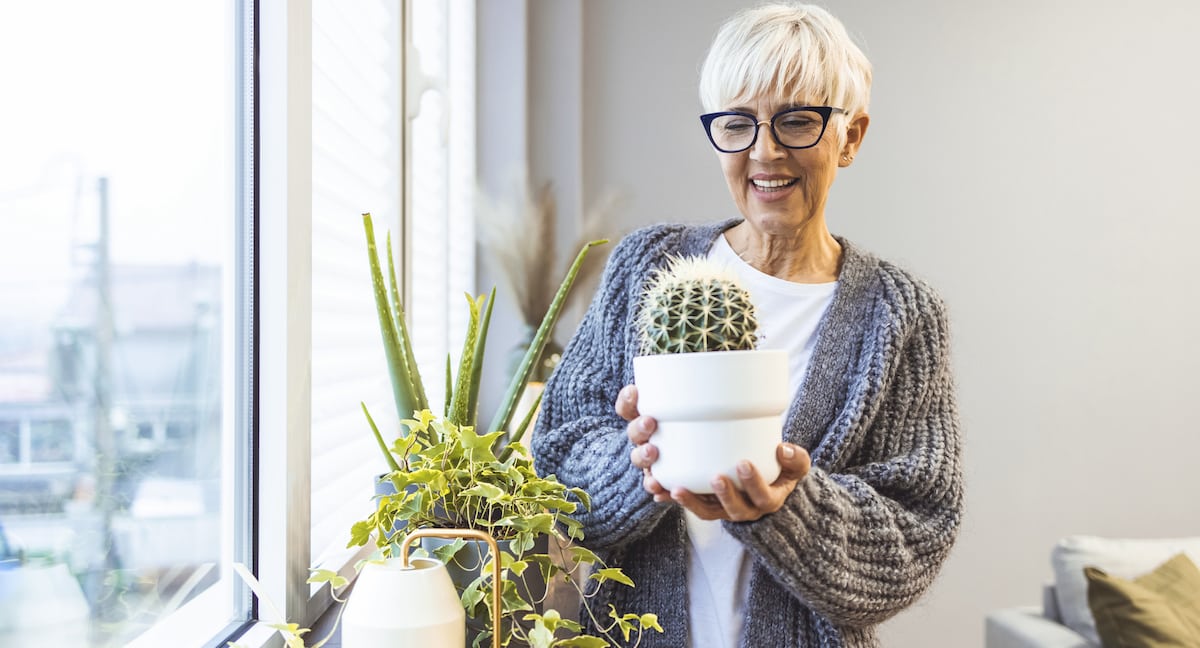 Brighten Your Senior Living Home Year-Round with Indoor Plants
House plants are a great addition to the décor of a senior living home as they bring a sense of freshness, fill empty spaces and can even help keep the air clean. For active older adults who love gardening, are considering new hobbies, or just enjoy plants in their home, there's a plant for every space. Take a look at what plants can do and which ones thrive in different areas.
Indoor air cleaners — Our homes are full of air-borne substances like volatile organic compounds that most people are not even aware of, but can be hazardous to our health. But according to a report from the National Aeronautics and Space Administration, some pretty ordinary house plants can help minimize these contaminants and their impacts. But which do the best job? One pretty one is English ivy, a trailing vine that is great for hanging pots both indoors and out, and is able to with stand low light. Another great option is the bamboo palm which is a great addition to a larger room as it can grow as tall as 10 feet and likes part shade and sun. For more great air-cleaning plant choices, check out the hgtv.com article, "20 Best Plants for Cleaning Indoor Air."
Low-light lovers — One the trickiest parts of keeping house plants healthy is to ensure they get the right level of light. If sunlight is limited, plants that require little natural light are the best bet. These include the pothos or devils ivy that is great in low containers and is available in different varieties. For a hanging pot, a spider plant requires little sun and is very drought tolerant. To add a little color in a corner, the dragon tree is a great floor plant choice that tolerates low light and grows to six feet. To find out more low-light plants possibilities, the apartmentguide.com blog, "33 Low-Light Houseplants to Bring Your Space to Life," is a great source.
Sunny spots — For those lucky enough to have sunny areas in their homes, adding a sun-loving plant or two will really compliment the space. A wonderful addition is the succulent aloe vera , which is not only low-maintenance, but also provides sap that helps relieve minor burn pain. Another fun choice is the exotic papyrus (Yes, just like the ancient Egyptians had!) that loves water and can grow tall, or for a splash of color, the hibiscus, a tropical plant that blooms in several colors indoors with just a little care. To see more full-sun plants to brighten your home, try thespruce.com's article, "12 Best Houseplants for Sunny Windows."
Hard to kill — For those who want plants but don't want to have to work at keeping them alive, there are plenty of very hardy plants to choose from. One of the best of the bunch is the snake plant, which requires little care and comes in different varieties and shapes. Cactuses are also easy to grow, and can stand alone or share a pot or plate with other cactus varieties that need little care but thrive indoors. To fill a large space, the rubber plant is perfect because it needs little care, only indirect light, and comes in different varieties.
Colorful and seasonal plants – Want a little color? Try kalanchoe during the winter (or any season), for a variety of colored blooms that last for weeks. For color without blooms, the coleus family cannot be topped for stunning, vibrant colored leaves and lots of choices to fit the décor. At Christmas time a blooming Christmas cactus will add to holiday decorations as does the amazing amaryllis that is not only super easy to grow — just add water and sunshine — but can grow quickly to over a foot tall with huge colorful trumpet-shaped blooms. Amaryllis bulbs can also be saved for another year because they go dormant like most bulbs, and then bloom again. In the spring it's fun to force bulbs like tulips, paperwhites and daffodils for lovely flowers indoors even before the snow is gone.
Plants can make any home brighter and healthier and as hobbies go, they are very gratifying as well. At StoneBridge at Winton Woods, our residents love the indoor plants as well as the outdoor gardens. Find out more about living at StoneBridge at Winton Woods, our housing options and amenities, contact us today and schedule a tour!