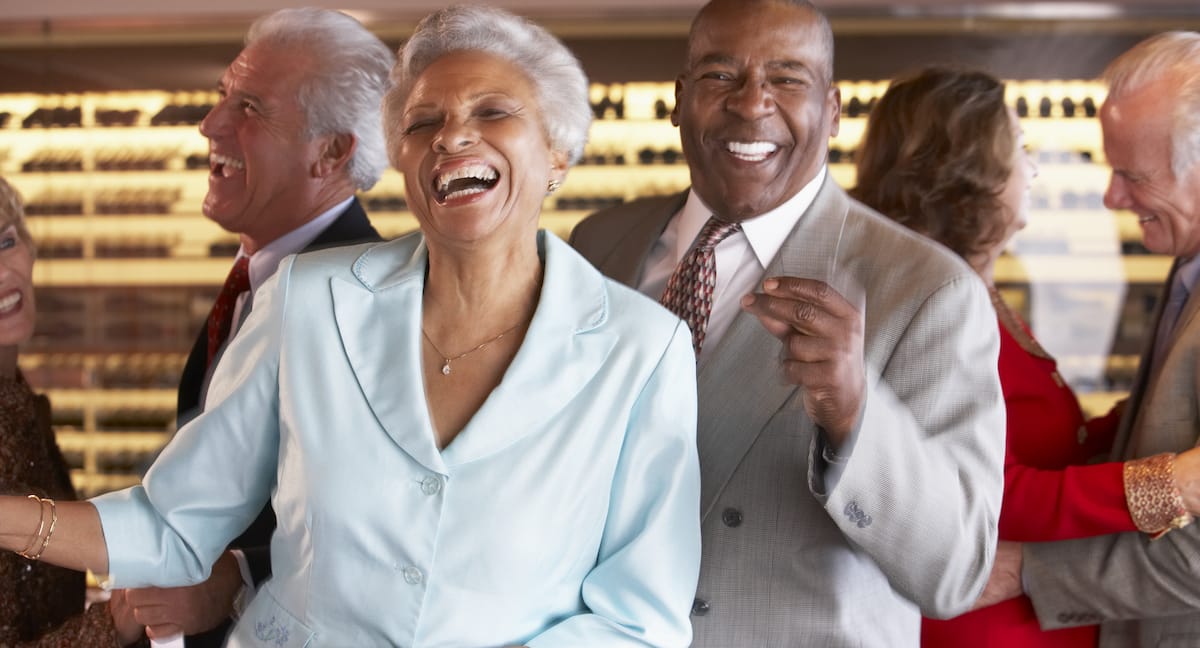 Why Active Older Adults Should Dance Their Way to Winter Fitness
Times where that going to a dance meant dressing up and looking your best to impress. Today, dance is recognized as a great form of exercise for all ages, especially active older adults in senior living communities. It is not only good for your body, but also a fun and entertaining way to get and stay fit. So, ditch the treadmill and spinner and consider how much there is to be gained by dancing your way to winter fitness.
What dance has to offer active older adults
Different dances offer different levels of exercise, but most put the whole body through a low-impact workout that helps improve strength, coordination and balance, all the while getting the heart rate up. For those like older adults who haven't been dancing routinely or who want to learn a particular type of dance like ballroom or salsa, beginner classes are best to begin until you build stamina and can advance to the next level. Best of all, dancing is fun and can become not only part of an exercise routine, but a time for social engagement as well. For those with physical limitations, always consult a physician before starting to dance to be sure it's safe. More about the benefits of dancing can be found in the webmd.com blog, "Dancing as a Workout."
Dancing around town
Cincinnati is a great place to get into dancing this winter with plenty of studios and clubs. For example, try the tango at Tango Northside by taking group classes or through private lessons for singles or couples given by expert instructors. Or maybe you have always wanted to learn ballroom dancing, which is the name of the game at Dance Manor, where you can take an introductory lesson or beginner, intermediate, or advanced ballroom dancing classes. Another great dance to learn is salsa, a combination of Caribbean and African dance styles performed to music of the same name. KamaSalsa Latin Dancing is a great studio to learn via classes or private lessons for singles, couples and groups.  If you love an upbeat, jazzy tempo, try DanceFix by HBDC for dance fitness classes and Nigerian West African dance lessons live in the studio or via virtual classes.
For those who enjoy the less formal atmosphere of club dancing, Jim & Jacks On the River is home to  great live country music and line dancing, or for different music and dance genres Mr. Pitiful's On the River has live DJs and dance parties scheduled during the week and on weekends.
Online dancing
If dancing is new to you, or you think you have two left feet, start out dancing at home with online classes in a range of styles and levels. At udemy.com classes are available for singles and couples for everything from belly dancing to salsa to ballet and hip hop. You can also see instructor ratings and get a 30-day guarantee on all purchases. Or take a look at the choices described in the verywellfit.com blog, "Best Online Dance Classes," which offers best-of list with something for everyone.  Another list is available from goodhousekeeping.com in the article "The Best Online Dance Classes to Try at Home Right Now," with cardio, overall fitness, and a variety of dance types. For a variety of dance videos, learndancelove.com is a membership-based site offering partner dancing as well as dance fitness and exercise, or learntodance.com offers online dance instruction for more than 10 different kinds of dance styles including club dancing, tap dancing, freestyle, Irish step dancing, and line dancing.  Of course, there is also YouTube with literally thousands of possibilities for dance lessons (including for seniors specifically) to choose from for free, 24/7 365.
Dancing is a great way for active older adults to get exercise, feel good, and lift your spirits. At StoneBridge at Winton Woods, we recognize the value of fun and exercise for our residents and go the extra mile to make it easy to enjoy an active lifestyle every day. To learn more about life at StoneBridge at Winton Woods, view our brochure or contact us today and schedule a tour!