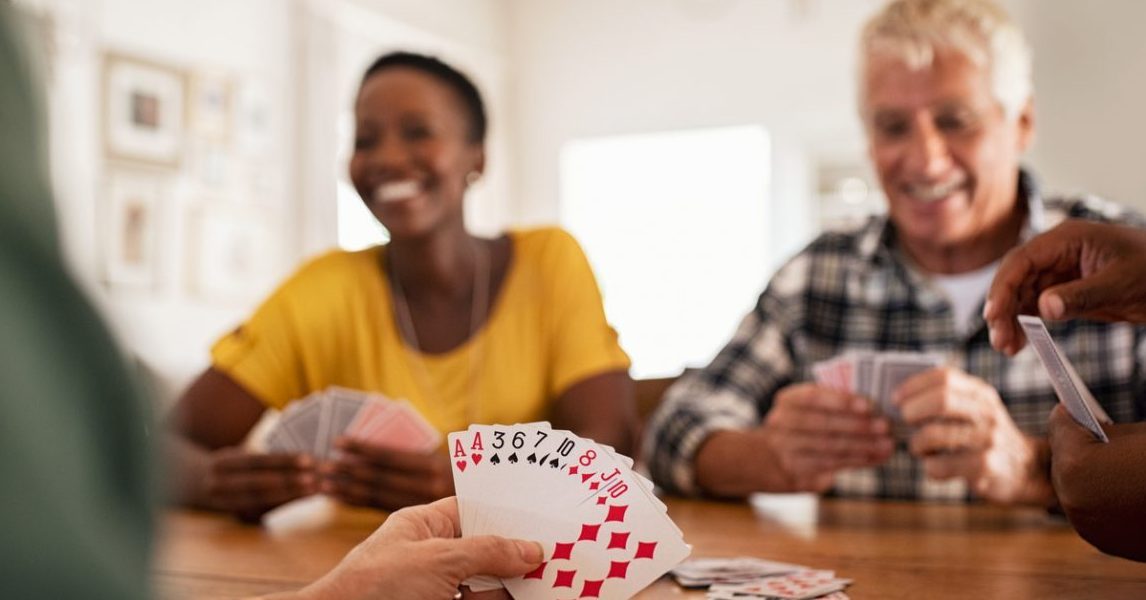 Learn the Basics of Bridge – A How-to Guide for Older Adults
An entertaining and beloved card game
One of the most entertaining and beloved card games of all time, Bridge is the perfect game for all seasons, all genders and all ages. It can be an especially good choice for older adults living in retirement communities because finding a foursome for a game is easy! Playing Bridge is not only fun, it's challenging and can help keep seniors keep their brains sharp and their social skills intact. Many seniors enjoyed playing bridge years ago, but even those who have never played the game before can learn. There is no one way to learn Bridge, but here are several options to consider.
Join a Bridge club
Like many games, Bridge is a played with a foursome, which may be difficult for bridge lovers who cannot find four people to play. For this reason, many who love bridge, will be willing to teach anyone willing to learn. A good place to start is by finding a local Bridge group or club, either in the senior living community or in the greater local area. Many Bridge clubs offer classes and are willing to help mentor new learners to help expand their organizations. According to the American Contract Bridge League, there are more than 3,000 bridge clubs across the United States and they provide an online tool to help newcomers find one near them.
The American Contract Bridge league also offers free software programs "Learn to Play Bridge I" for beginners and "Learn to Play Bridge II" for those who have mastered the basics of the game.
Meet up with Meetup
One of the many benefits provided by the internet is the ability to locate people with shared interests nearby. When it comes to learning Bridge, the Meetup website offers a great way to get together with other Bridge newbies and learn the game with others who are also just beginning, or start your own meeting. The Meetup Bridge Beginners site helps people join a local group and offers links to events for all Bridge enthusiasts including beginners and intermediate level players.
Try YouTube
The depot for all things, YouTube has a wide variety of videos about Bridge in general and specifically how to play the game. For example, the video, How to Play Bridge (Complete Tutorial) take the game one step at a time from dealing the cards, to the objective, to bidding, game play, scorekeeping, rules, strategy, and an example. The video is only about 15 minutes long and can be watched over and over again to help new players understand the intricacies of Bridge before they take it on live with other players. The video from gathertogethergames.com also provides a link to a written overview of the game. Check out YouTube for many more Bridge-for-beginners videos from a range of experts.
Take lessons
Like anything new, Bridge has a learning curve and new players can only benefit from taking a lesson or two from experts. The website, bridgelesson.com, offers lessons from beginners to advanced level for a small fee. Another possibility is 60secondbridge.com, which offers online lessons and requires registration but also offers a free trial. Learn Bridge Online also offers lessons from experts from around the world, with sessions spread over several weeks. Fees are charged for lessons. Also helpful is ateacherfirst.com that offers a long list of topics for free, an inexpensive Pocket Guide for Beginner Bridge, as well as password-protected content. One more to consider is bridgebears.com, a site run by a retired teacher with more than 50 years of Bridge-playing experience. This website offers a simple step-by-step process for beginners as well as more advanced players. For an expansive list of online lesson options, try coursef.com.
Read all about it
Many seniors who are not internet savvy, may prefer to learn the basics of bridge the old fashioned way, in a book! Here are a few of the top rated books on Bridge to choose from:
More award-winning Bridge books can be found on the American Bridge Teachers Association's website.
While life isn't just about fun and games, residents of StoneBridge at Winton Woods have a variety of ways to stay entertained and challenged each and every day. Learn more about our services, amenities and housing options by contacting us today.