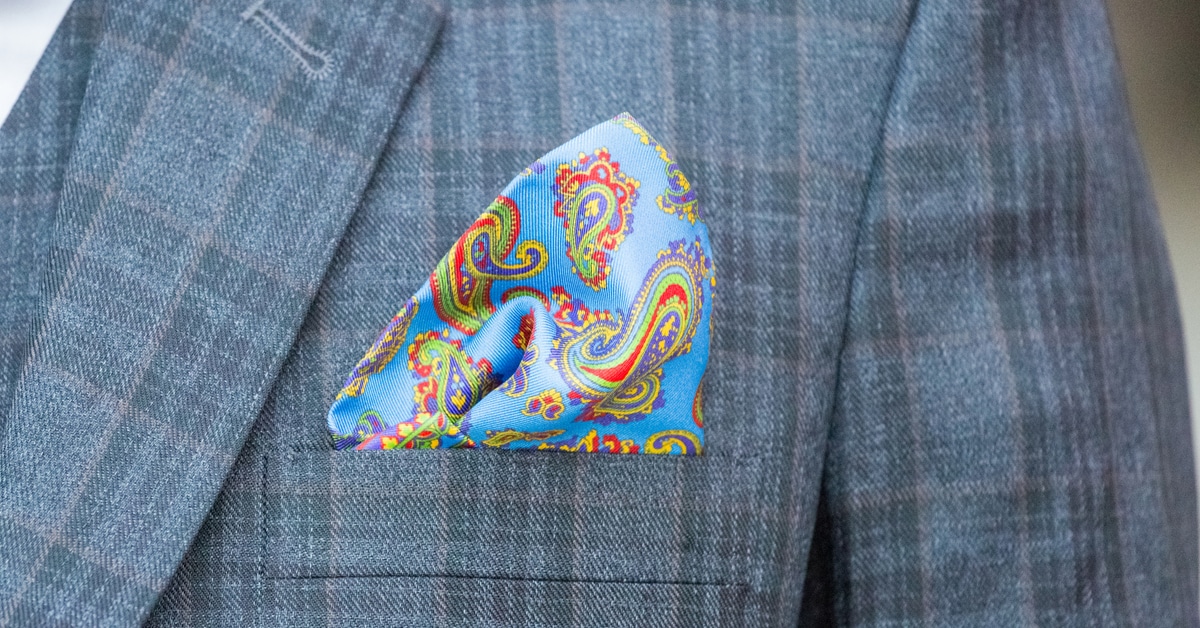 Be the Most Stylish Guy in Any Crowd by Doing This One Thing
Hey active senior guys – this blog is for you! Even though you're retired and don't need to put on the coat and tie much anymore, there's no reason why you can't slip on your blazer or sport coat now and then for special occasions. Here's a simple and easy styling trick that will update your look the next time you go out for date night and ensure that you will almost certainly be the most stylish guy in the crowd!
Pocket squares
Yes, we're talking about the pocket square, a simple piece of cloth meant to be folded and placed in the breast pocket of the blazer, sport coat, or suit coat. They were originally handkerchiefs, whose history and purposes go back supposedly as far as ancient Egypt, but in modern times they serve mainly as a fashion accessory and a sign of a gentleman. It's worth noting that they were popularized in the middle of the 20th century by men wanting to emulate Hollywood icons like Cary Grant, Gary Cooper, and Frank Sinatra. They've been an during symbol of an individual's sense of style, both formal and carefree.
Commercially made pocket squares can be found in men's clothing stores, department stores, online shops, or on Amazon. Handmade and vintage ones can be found at craft shows or on Etsy, among other places.
Colors and Patterns
Pocket squares come in an extremely large variety of colors, patterns, and materials. What are the rules for deciding which color and pattern to choose? There really aren't! It's entirely a matter of self-expression. If you want to be more reserved, choose one that matches your shirt (or if you're wearing a tie, choose one that compliments the tie's color). If you want to be more bold than reserved, then go for brighter colors and designs!
How to Fold Your Pocket Square
There are dozens of ways to fold your pocket square before it goes in your sport coat's chest pocket. Some are very simple, others are very elaborate. The men's style website Gentleman's Gazette put together a great article titled "How to Fold a Pocket Square – My Top 8 Folds for Gentlemen," and it includes an easy to follow instructional YouTube video.
Pocket Square Holders
Can't be bothered to learn a folding technique, or maybe you find that your pocket square loses its shape or slips down in the pocket? Check out one of several types of pocket square holders out there; a quick search on Amazon will turn up a variety to choose from. Most are extremely simple to use and do a good job of maintaining the shape and securing it in the pocket.
The next time you're getting ready to head out for a nice dinner or a date, put on that sport coat that's been in the back of the closet and pop a pocket square in the breast pocket. You'll almost surely be the most stylish man in the room!
Learn more about the active adult lifestyle at StoneBridge of Winton Woods here, and hear what our residents have to say here!