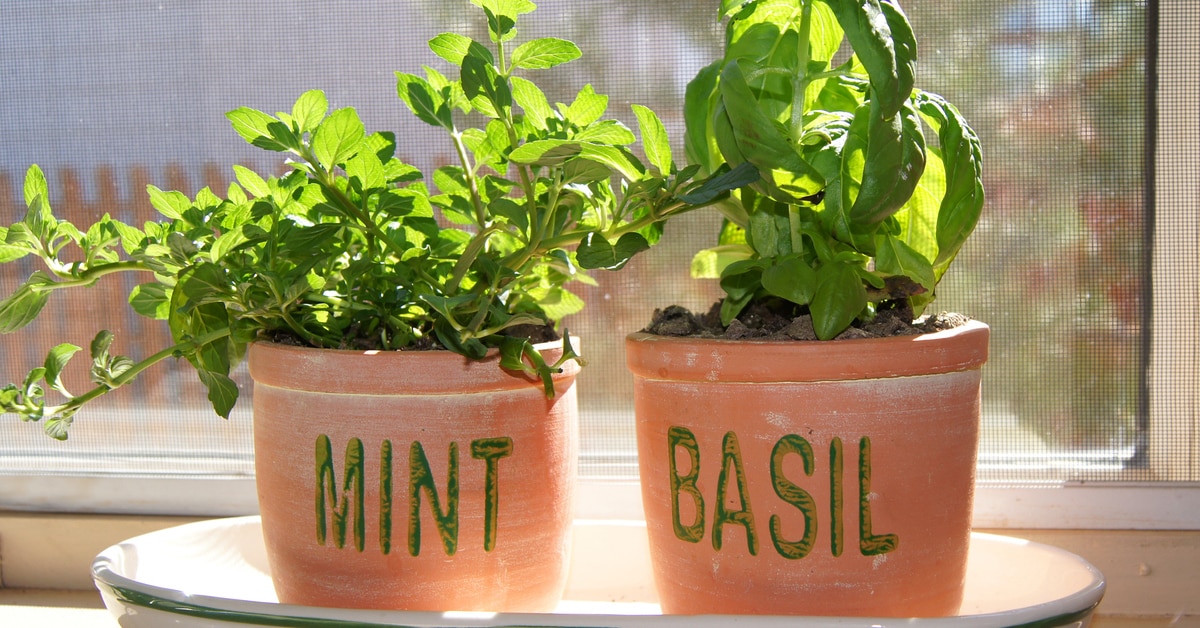 Kitchen Herb Gardens for Small Spaces
Growing herbs yourself brings fresh flavors into your cooking and delightful smells into your home. You don't need to dig out a garden patch in your yard to do so, many of the most useful herbs can be successfully grown in containers, like pots and planters, on the back porch of your 55 plus retirement villa or apartment.
Growing in containers
Clay or plastic pots and larger containers are ideal for growing herbs. Container-grown herbs have the benefit of being able to move them indoors for the colder months so they can continue to grow and produce fresh herbs throughout the year. Choose a spot on your back porch that gets a good amount of sun throughout the day, and is convenient for going out to snip a few fresh herbs for your dinner recipe. Make sure it's close to a hose spigot for ease of watering, either by a hose with a spray nozzle or with a watering can.
Growing from plants or seeds
All of the herbs below can be successfully grown from seeds, but most are readily available already started in small pots that can be transplanted into your larger containers. Growing from seeds takes longer and can require some specific conditions to get the seeds to sprout, while small herb plants are ready to go right into your garden.
6 Herbs to Try
Basil
Basil's flavor is best known in Italian dishes including pesto, red sauces, layered in lasagna, in Caprese salads between slices of tomato and mozzarella cheese, and as a topping on pizza Margherita, but it's versatile in other cuisines like Thai curries. It can add a distinctive flavor to salads too!
Chives
Snipped fresh chives can add just the right amount of onion flavor to dishes like baked fish, baked potatoes, omelets, and in creamy soups. They're also great in those sour cream and onion dips that go so well with potato chips!
Mint
If you need just one excuse for having mint in your garden, it's for use as the key ingredient of the mint julep, the signature drink of the Kentucky Derby each May! Fresh mint leaves have so many other uses in the kitchen though, like garnishing a scoop of vanilla ice cream, muddling in your glass of iced tea, and for just eating the leaves for a refreshing palette cleanser after dinner, that you'll never want your herb garden to be without them!
Oregano
Oregano is a staple of Italian cuisine, and is one of the signature flavors – along with basin and garlic – associated with Italian dishes.
Rosemary
Rosemary is a hardy, woody herb with a strong evergreen aroma and flavor; a little goes a long way in cooking! Just a small sprig can infuse roasted or baked dishes like potatoes, chicken, beef, and lamb with a bright Mediterranean flavor.
Lavender
Lavender, while edible and popular as a seasoning and brewed as a tea, are probably best put to use in the house as a dried flower. Dried lavender is exceptionally fragrant, and is a fantastic scent to have in the home.
Herb Growing Tips
For some great advice on herb growing, check out The Ohio State University's College of Food, Agricultural, and Environmental Sciences' article "…Top 10 Tops for Planting Herbs", and the Ohio Farm Bureau Federation's article "Herbs: 10 Favorites for Ohio".
Whether you are an avid cook or have a green thumb, growing your own herbs is a rewarding hobby for the active older adult. Learn more about the active adult lifestyle at StoneBridge of Winton Woods here, and hear what our residents have to say here!