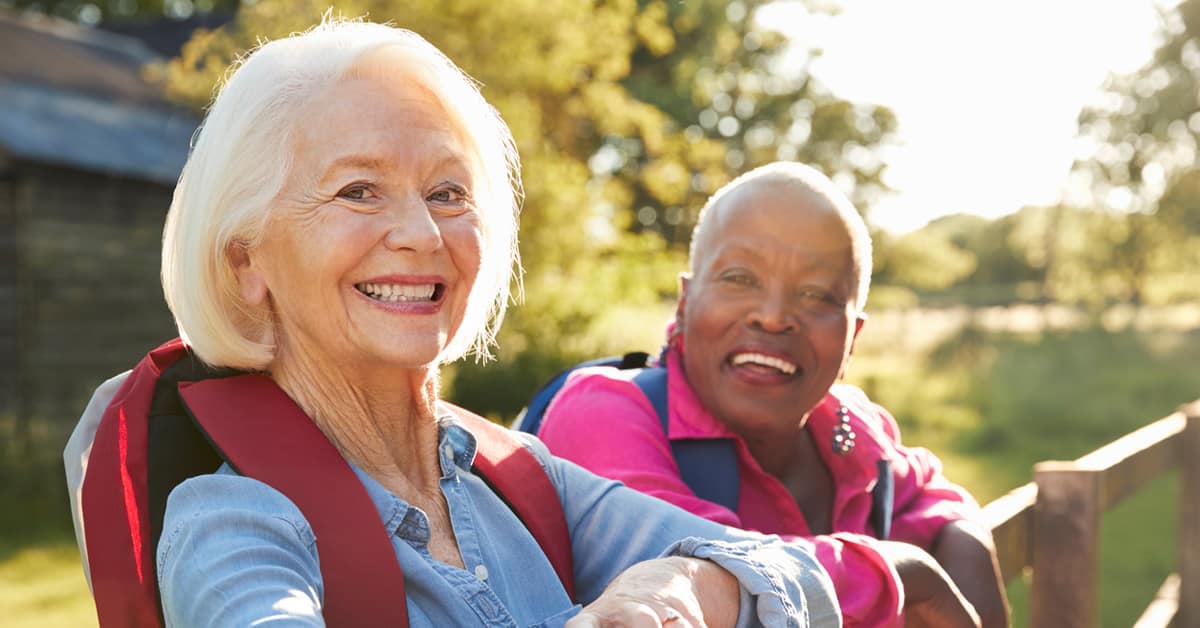 It's Spring, Get Outside!
It's Spring, and all around the Cincinnati area you can see signs of it: temperatures are warming up into the 60s and the trees and flowers are blooming all over. It's a great time of year to be outside, so if you're an active senior, here are some great outdoor activities to do to shake off your winter blues and enjoy the beauty all around you!
Get Your Steps In
Walking is a great exercise activity for older adults. The health benefits are many, and it's an activity you can do that is literally right outside your front door! 30 minutes a day is recommended by most sources, but if you haven't walked vigorously in a while or are just starting out, aim for five minutes and build up from there. The AGS Health in Aging Foundation has an informative tip sheet on walking for wellness, check it out here.
Take a Nature Walk
Residents of StoneBridge at Winton Woods are just minutes away from Hamilton County's Winton Woods Park. The park features 2.6 miles of paved trails through the forests and along the lakeside of the park. You'll encounter a variety of birds, plants, and insects native to the park. Wear comfortable shoes, bring your water bottle to stay hydrated, and don't forget your camera!
Horseshoes
A game of horseshoes is a great way to spend a spring afternoon outside. Friends have probably been playing horseshoes for as long as horses have worn shoes. U.S. Presidents Harry Truman and George H. W. Bush played it at the White House in a pit built by Truman. Prior to the 1920s, rules were decided at the local level, and it wasn't until 1925 when an official set of national rules was adopted. Even today, there are local variations in rules, but generally, points are scored by throwing your horseshoes closest to the stake than your opponent. Horseshoes sets can be found in the big box retail stores, sporting goods stores, and online retailers.
Cornhole
Corhhole is a bean bag tossing game has its origins in horseshoes and its cousin, Quoits, but really didn't gain a following until the 1970s. The bags were originally filled with dried corn kernels, and that's where the game got its name. Singles or teams of two play against their opponent by throwing their bags at a slanted board with a hole in it, with the goal of getting their bags in the hole or on the board. Points are awarded for each. Official rules, bags, and boards can be found at the American Cornhole Association's website.
Lawn Bowling
Lawn bowling has been played for centuries in England and was brought over to America over 160 years before the U.S. was even a country. Individual players or teams compete to roll their balls closest to a target "jack" ball. The closest ball earns a point. Like horseshoes and cornhole, it's a great game for active seniors, and has the benefit of incorporating frequent walking across the playing field. Not far from StoneBridge at Winton Woods is Hamilton County Parks' Little Miami Golf Center, where The Cincinnati Lawn Bowling Club hosts league play three days a week, May through October. The group welcomes new members who want to learn this enjoyable sport.
We hope you'll take advantage of the beautiful Cincinnati spring weather and get outside with your friends to enjoy some of these fun activities suitable for active adults and people of all ages! Learn more about the active adult lifestyle at StoneBridge of Winton Woods here, and hear what our residents have to say here!